All the Forbidden Things by Lesley Jones is LIVE on Amazon!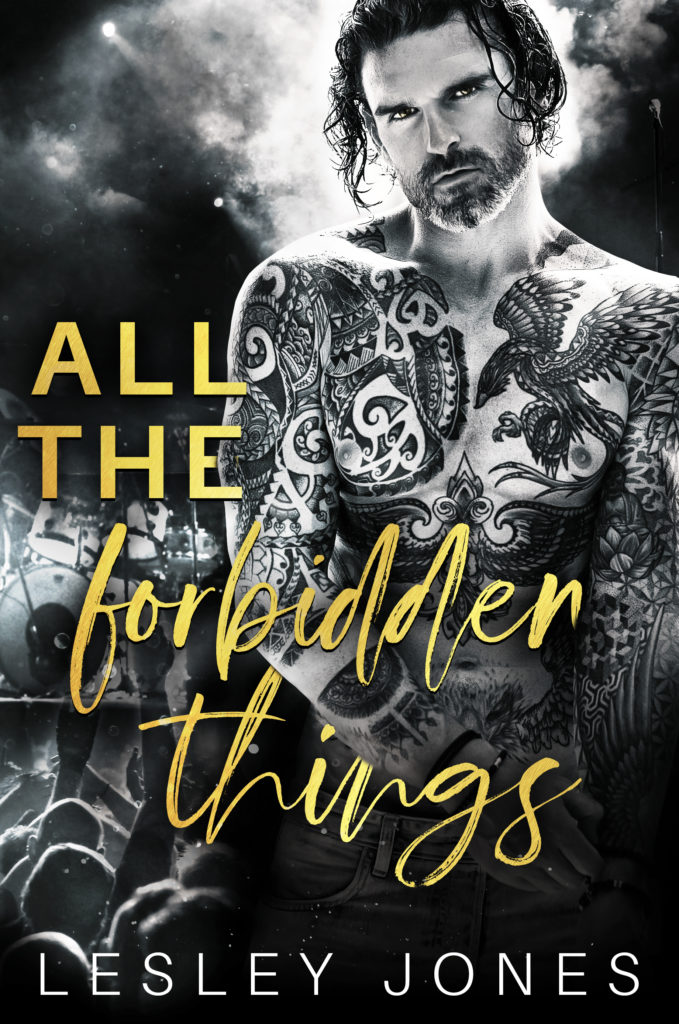 SYNOPSIS: 
When all that you want, is all that's forbidden…
I've known him my entire life.
Before marriage.
Before fatherhood.
Before betrayal.
Now, he's one of rock's bad-boys trying to be good.
Trying to be the best father he can for his daughter.
He's my brother's best friend.
He's my boss.
He has a wife.
Max isn't mine to have, but I want him all the same.
And I haven't survived all that I have to not go after what I want.
Her story is a tragedy, mine's a publicity disaster.
Just when I needed her most, she walked back into my life, and the timing couldn't be worse.
With a newborn baby, a divorce, an album to record, and a world tour to plan, I don't need the distraction.
She's off limits.
She's my best friend's little sister.
She's my nanny.
Billie's a golden drop of sexy sun on a grey autumn day, tempting me into the light and a life full of possibilities.
A life not meant for us.
Add to your Goodreads TBR: http://bit.ly/2YKvG2Q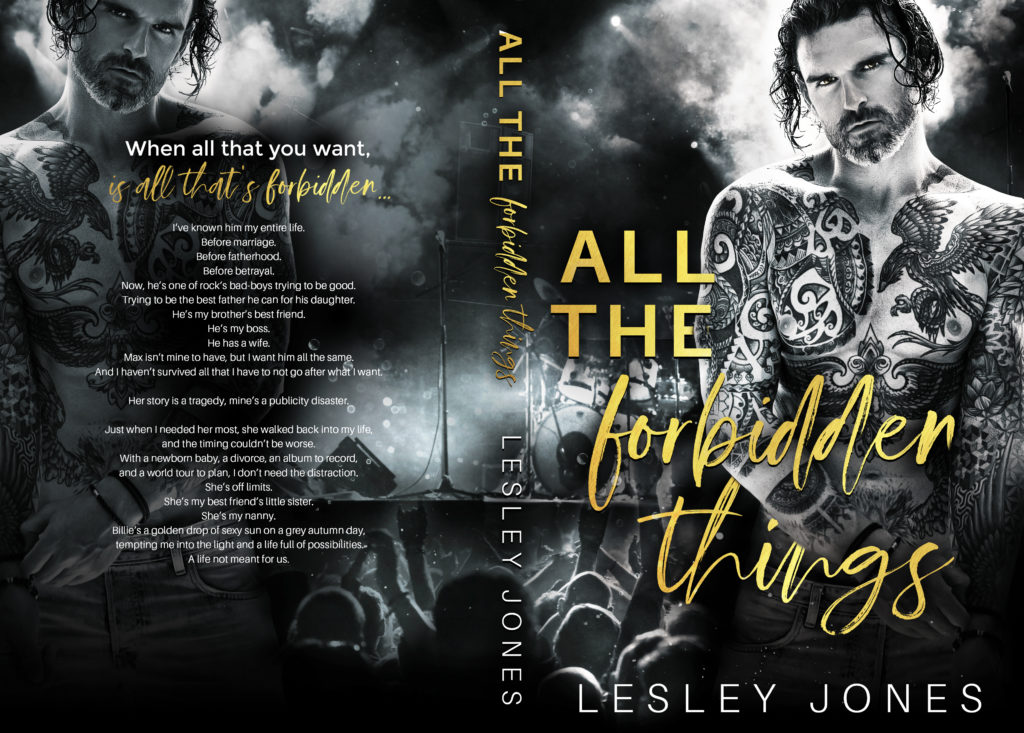 PURCHASE LINKS: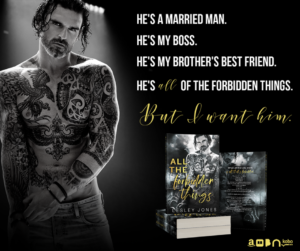 Amazon: https://geni.us/ATFT
Bookbub: https://www.bookbub.com/books/all-the-forbidden-things-by-lesley-jones
EXCERPT:
It's at that point I notice Billie climbing from the car. Although, if Mel hadn't told me, I'd never have recognised the girl standing on my drive as Billie Wild.
She closes the car door and turns towards me.
Silence.
She stares down at her feet as she moves slowly along my driveway. When she reaches the front of the car, she looks up. The bluest of blue eyes meet mine, and she stops moving.
Deafening silence.
No birds singing.
No traffic sounds.
The silence is so loud it hurts my ears.
What. The. Actual. Fuck?
She takes a step towards me, and my hearing returns. The gravel crunches beneath her green biker boots, a pigeon coos, brakes screech, engines rev . . . a bomb could fucking drop, but nothing, not a single thing can divert my attention from Billie Wild as she moves towards me.
MY REIVEW:
"Max. It's all right. It's all right to be scared, and it's all right to cry."
This was my first book by Lesley Jones and after seeing this cover and reading the blurb, I was so excited to dive in! Angsty and ultimately romantic, this book was filled with relatable characters and non-stop emotion.
Max Young is a famous musician who has suddenly found himself to be a single father to an infant daughter. He is devoted to her and is determined to be the best father he can be. But he is all alone. He does have his his loyal bandmates to support him, who have been with him through thick and thin.
"Best friends. Bandmates. Brothers in every way other than biological. We had each other's backs through first loves, lost loves, broken hearts, arrests, and hangovers. We'd held each other up through deaths, births, and marriages."
Max must also deal with his overwhelming situation with his wife Whitney who is COMPLETELY untrustworthy. She adds all the drama to this story. Added to this is the constant attention from the press and the tabloids who are always lurking around Max and his band mates.
Added to all the drama is Billie, the young sister of Max's friend. She agrees to act as nanny for Max's baby but she has had a crush on Max for years.
"He's a married man. He's my boss. He's my brother's best friend. He's all the forbidden things."
'All the Forbidden Things' is an ultra-steamy, very angsty story that was very easy to read. If you love a good rocker romance, then you will love this very British story filled with characters who are loyal, funny, sexy and completely foul-mouthed! Max made a very swoony main character, who I was rooting for to succeed.
I would have enjoyed a little more in-depth description of the music business or behind-the-scenes concert action. Nonetheless, this is a very fast-paced story with tons of drama and dual POV's that worked well. Max wasn't afraid to show his vulnerable side, and the scenes with Billie are fantastic. This story will be sure to please all fans of Lesley Jones, and I am looking forward to more books in this series.
(Thank you to the author for providing me with a free copy in exchange for an honest review.)
TEASERS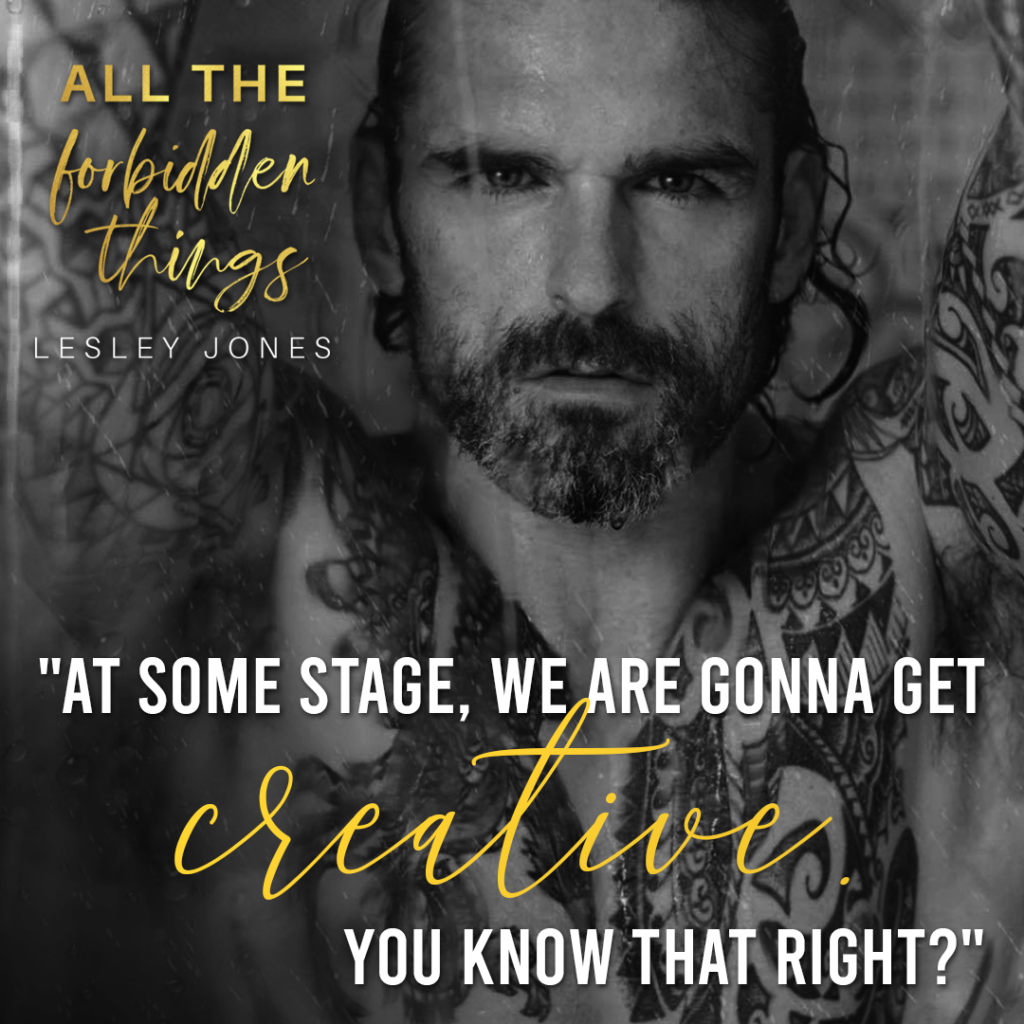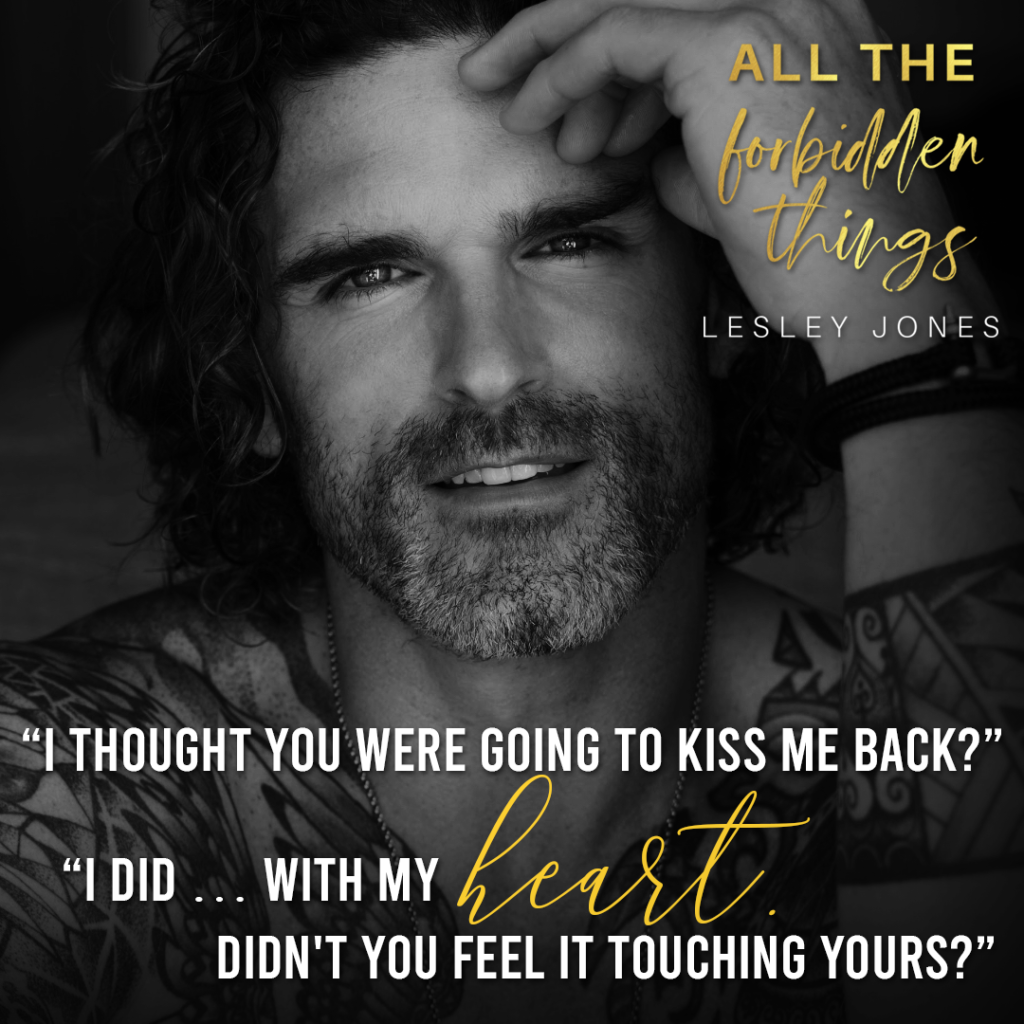 ABOUT THE AUTHOR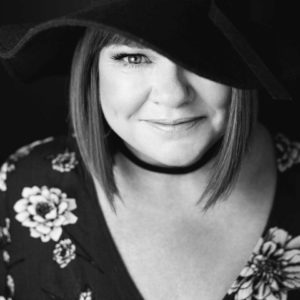 Lesley was born and raised in a small working-class town in Essex, just outside of East London. She's married with three sons and in 2006 they all moved to the other side of the world, settling on the beautiful Mornington Peninsula, about fifty kilometres outside of Melbourne, Australia.
Lesley is currently 'a stay at home mum', but in the past, she has worked at 'good old Mark & Spencer' for thirteen years and as a teacher's assistant.As well as writing, Lesley loves to read and has been known to get through four or five books a week, when she's not writing that is.
Her other interests are watching her boys play football… the round ball version. She's happy to admit to being an addict of social media and owes a lot to her Facebook and Twitter family in promoting her book. Lesley is also rather partial to a glass or bottle of wine, a nicely chilled Marlborough Sav Blanc being her favourite.
Being a born and raised Essex girl, she will happily admit being a big fan of spray tans, manis, pedis, and is regularly, waxed, tinted and sculpted, although she doesn't own a pair of white stilettos.
AUTHOR LINKS
Facebook Reader Group: bit.ly/LJBOOKBAR
Facebook Page: bit.ly/LJFBPAGE
Website: www.lesleyjoneswrites.com
Newsletter signup: http://bit.ly/NLSIGNUP
Amazon: http://geni.us/lesleyjonesamazon
BookBub: https://www.bookbub.com/authors/lesley-jones
Goodreads Author Profile: http://bit.ly/2hAfiOv
Twitter @LesleyKJones : http://bit.ly/2DIBCwo
Instagram: https://www.instagram.com/lesleyjoneswrites/