Welcome to our blog tour stop for Calia Read's third book in the Sloan Brothers series – RUIN YOU COMPLETELY! This is Mathias' story. Make sure to enter the giveaway below. Good luck! #sloanbrothers #MathiaWillRuinYouCompletely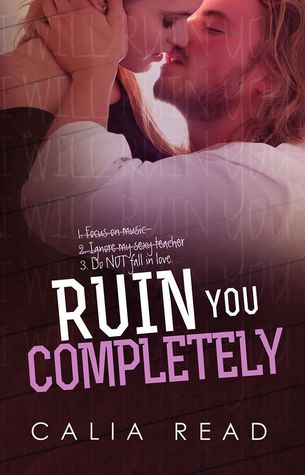 I met Mathias Sloan in a club.
Truth.
I told him I was twenty-four.
Lie.
I told him my name was Olivia.
Lie.
I thought that I would have a one-night stand and be done with him.
Truth.
I didn't know that he was my new piano instructor for the next six months…
Truth.
We would come together and fall apart. After him, every man was ruined.
Truth.
If I knew what I know now, I wouldn't have walked to him. I would've turned and run…
LIE.


"Katja," he growled as he grabbed my arm.
"Let go," I hissed.
I pulled away and hurried to open the door. His hand landed on the door and shoved it back in the frame. I whirled around, realizing I was caged between his arms.
"Move away, Mathias."
"No."
My lips still tingled from his kiss. It was too soon to be this close to him. His hands remained splayed against the door. He leaned in and I felt the heat of his body as if it was my own.
"Why did you come and see me perform?" I asked.
He tilted his head to the side. "Why do you think?"
"I don't know," I pressed my body against the door.
Mathias smiled, but it was dark. "Why do you keep moving? Think you can run away?" He smiled bitterly. "I've tried that. It doesn't work."
"What do you want me to say?"
"I want you to tell me you've thought about me as much as I've thought about you."
I pressed my lips together in a flat line.
Mathias' eyes were glued to mine. "You haven't thought about me at all?"
I stared at him, wanting so badly to tell him I hadn't, but knowing I couldn't. It would be the biggest lie I'd ever told. I glanced away.
"Don't look at the floor," he demanded. "Look at me."
I didn't want to look at him. At that second, all I wanted to do was stare at the ground; it was safe to look there.
"Tell me the truth," Mathias said. I felt his lips brush against my ear.
REVIEW:
"Because of him I learned that there's a learning curve to love. Because of him I realized that there's always that one person that destroys and sends you back into the world to fend for yourself. And it doesn't matter how hard they hurt you. Whether you like it or not, the scars on your heart spell out their name."
I absolutely fell in love with this author and this book!! This was my first book by Calia Read and it blew me away. Ruin You Completely is the story of Mathias who agrees to travel to Germany to become piano instructor to a nineteen year old rising star named Katja. I have not read any of the other books in this series, and for me, this story absolutely stood on its own. Matthias is the classic sexy, aloof bad-boy, but he and Katja have a bond that is built up slowly through this book. I loved reading about the world of piano and music. But the author also brings out the steam factor in a big way, and these two must struggle to keep their feelings on a professional level in light of their student-teacher relationship.
"His skin was smooth and hot. Mathias jumped. I jerked my hand back, realizing too late what I'd done. When we touched, it was never good. He was the match. I was the fire. We both went up in flames."
Katja and Matthias belong together but they are both too stubborn to act on their feelings. Their timing is terrible and my heart broke for them and for the ones around them that would inevitably get hurt by their behavior. This story is told in alternating POV's which worked perfectly here. From the German settings, to the story, to the characters and the plot, I loved everything about this book! I adored Katja and how she grew and changed after she met Mathias.
"But since I met Mathias, I stopped caring. Stopped questioning. And I loved it. He showed me that sanity is safe. Boring. And madness was unpredictable. Beautiful. Of course I would snatch the chance to spend time with him.
I loved the ending of this book and I can't wait to read more books by this author!
(ARC provided by the author in return for an honest review.)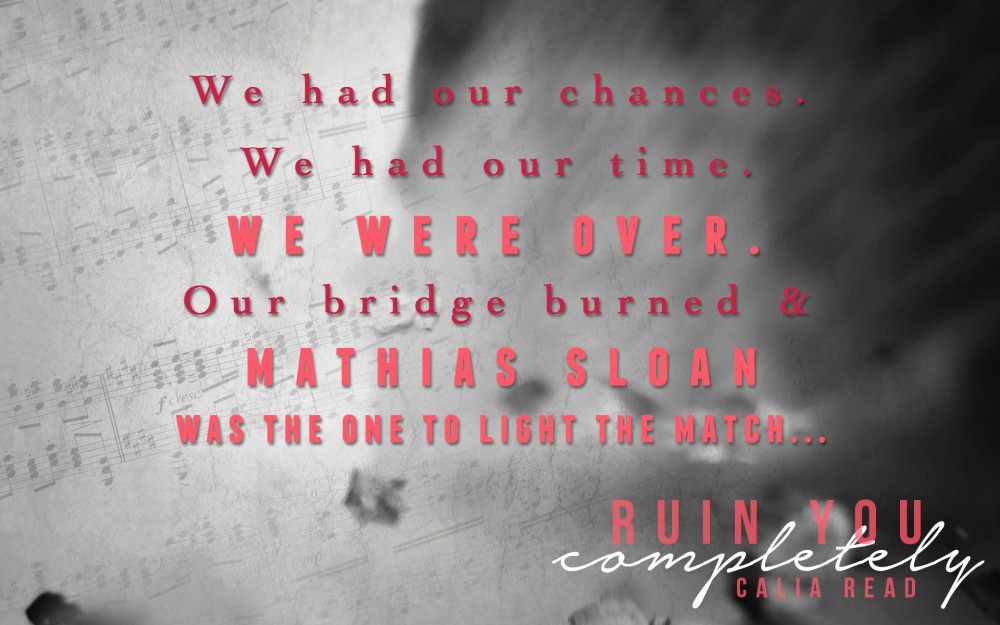 Ruin You Completely from Becca the Bibliophile on Vimeo.

Calia Read lives in Indiana with her husband and their four kids.
Facebook | Twitter | Blog | Goodreads

♥READ THE SERIES♥
Book 1 – Every Which Way – Amazon | B&N
Book 2 – Breaking the Wrong – Amazon | B&N