Welcome to our stop on The Storm Blog Tour! I loved Jake and Tru's story! Make sure to scroll down and enter the giveaway below! Up for grabs is a signed paperback of this book or an Amazon Gift Card (open internationally). Good luck!
♥ Buy the Book ♥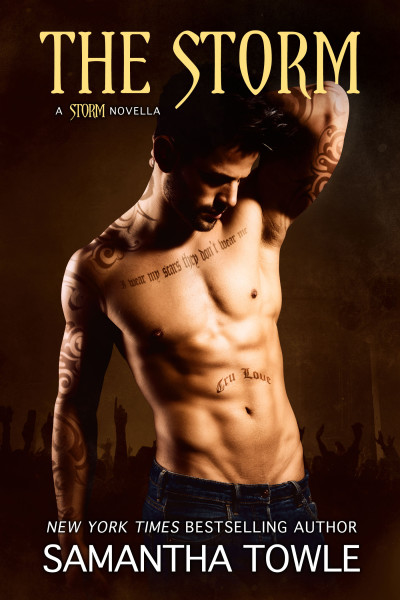 STORM (noun)—a turbulent disturbance; a disruption or dispute.
Jake Wethers's life is perfect. He's married to the woman he's always loved, and they have three beautiful children. The Mighty Storm is still going strong, and his record label is thriving.
Jake has everything—a life he thought he would never have and one that he didn't think he deserved.
Not so long ago, Jake's life wasn't perfect. The unexpected and untimely death of his best friend, Jonny Creed, sent an already out-of-control Jake spiraling down further.
Drug addiction. Alcohol. Women.
Jake was in the fast lane to following Jonny to the grave until Tru Bennett walked back into his life and changed everything.
But now, the past that Jake left behind has come back to find him. And what the past brings with it is going to be one of the biggest challenges he has ever faced.

MY REVIEW:
"Hindsight— it's a motherfucker, ain't it?"
SO happy to read this gem of a story! I remembered why Jake and Tru and The Mighty Storm are among my favorite book characters. Emotional, witty and sexy, The Storm is a must-read for fans of The Mighty Storm series.
I absolutely LOVE when my favorite characters are brought back for a little "something more." If done well, I can't get enough. And Samantha Towle has written a perfect novella that captures the essence of Jake, Tru and The Mighty Storm. There are no "fillers" here, only genuine emotion, a great story, some drama and fantastic conclusion to the story of The Might Storm.
There is a huge twist to this story that is completely unexpected and perfect for Jake and Tru. If you have a few hours, I highly recommend this story. This book  cements my love for Jake as one of my all-time favorite book boyfriends. There is a depth to this novella that for me, was a pleasant surprise. Don't miss this wonderful addition to The Mighty Storm series.
(ARC provided by the author in return for an honest review.)

New York Times, USA Today, Wall Street Journal and international bestselling author Samantha Towle began her first novel in 2008 while on maternity leave. She completed the manuscript five months later and hasn't stopped writing since.
She has written contemporary romances, THE MIGHTY STORM, WETHERING THE STORM, TAMING THE STORM, TROUBLE, REVVED and REVIVED.
She has also written paranormal romances, THE BRINGER and the ALEXANDRA JONES SERIES, all penned to tunes of The Killers, Kings of Leon, Adele, The Doors, Oasis, Fleetwood Mac, and more of her favourite musicians.
A native of Hull and a graduate of Salford University, she lives with her husband, Craig, in East Yorkshire with their son and daughter.
Facebook | Twitter | Website | Goodreads

Samantha Towle's THE STORM Release Week Event

♥ READ THE BOOKS THAT STARTED IT ALL ♥
Book 1 – The Mighty Storm
Kindle Edition
Amazon UK | US
Paper Back
Amazon UK | US
Audiobook
Amazon UK | US
Book 2 – Wethering the Storm
Kindle Edition
Amazon UK | US
Paper Back
Amazon UK | US
Audiobook
Book 3 – Taming the Storm
Kindle Edition
Apple
Kobo
Barnes & Noble