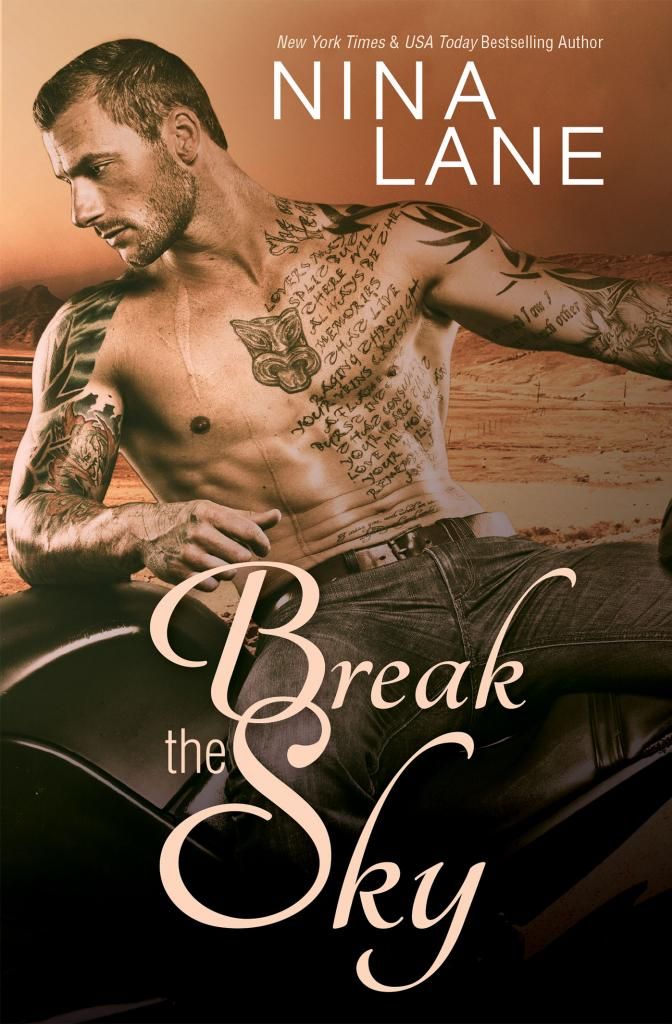 Title: Break the Sky
Author: Nina Lane
Genre: Adult Contemporary Romance 18 +
Publish Date: July 29, 2014
Publisher: Snow Queen Publishing
ISBN: 0990532461 (ISBN13: 9780990532460)
~Synopsis~
"Do you ever let go, storm girl?" he asked. "Ever lose control? Ever surrender?"
"Never," I whispered. "I never surrender."
A smile of both promise and warning curved his beautiful mouth.
"You will."
Atmospheric scientist Kelsey March is under siege. Her tornado research project is on the skids and she's fighting conflict in her university department. So when irresistible bad boy Archer West suggests a hot, wild fling while he's in town, Kelsey is unable to resist his sexy offer.
Kelsey and Archer embark on a intense, exhilarating affair. But soon their differences and private battles encroach on their desire, and Kelsey discovers she is caught in a storm she can't control…
BREAK THE SKY is a standalone Spiral of Bliss spin-off novel from New York Times and USA Today bestselling author Nina Lane.
Review
Wow! Break the Sky is a brilliant, rich and SCORCHING hot storm of a story that will make new fans of Nina Lane. Kelsey and Archer were seen in the earlier Spiral of Bliss books but you do NOT have to read those books first (although they are fantastic and I highly recommend reading them NOW!!) One of my favorite couples, Dean and Liv, make an appearance here but the center of this amazing book is the stormy relationship between Kelsey and Archer.
I swallowed to ease the dryness in my throat.

"Do you always let fate decisions for you?"

"Fate makes better decisions than I do."
Archer has always been a screw-up, an angry (and rightfully so), rootless man, drifting from job to job and never able to commit to much. He rides into the town of Mirror Lake already a changed man but his brother Dean only sees the old Archer, the addict and the womanizer. Enter Kelsey, the tightly-wound meteorology professor who needs to let go a little, and who knows that Archer is everything she should avoid.
"He could push me to my limits and protect me the entire time."
Kelsey and Archer immediately strike a "deal", agreeing to a temporary relationship while he is visiting with Dean and Liv. Suffice it to say, they both get more than they bargained for and both learn to see behind the other's facade and get to what's real and honest. All of this plays out against the almost-fairytale-like setting of Mirror Lake, which adds a very special magic to this incredibly sexy and adult story.
I must say that I absolutely love how Nina Lane can write about the world of college academics on the one hand and then turn around give us one of the dirtiest-talking characters EVER! (Phone sex, hello!) Archer is all man, commanding, bossy and completely honest with Kelsey. I found their relationship to be completely real and perfectly developed. I also loved the way Archer and Dean's relationship grew throughout this story, and the way Archer really matured and came to terms with his past.
BREAK THE SKY is tender, sexy, funny and incredibly satisfying. Another must-read from Ms. Nina Lane!
*ARC provided by the author in exchange for an honest review*
Purchase Links
Amazon | Barnes and Noble | iTunes
About the Author

New York Times and USA Today bestselling author Nina Lane writes hot, sexy romances and spicy erotica. Originally from California, she loves traveling and thinks St. Petersburg, Russia is a city everyone should visit at least once. Nina also spent many years in graduate school studying art history and library sciences.
Although she would go back for another degree if she could because she's that much of a bookworm, she now lives the happy life of a full-time writer. Nina's novel The Erotic Dark hit #1 on Amazon's Erotica Bestseller list.  Spice Box box set which included Arouse was #6 on the New York Times Bestseller list and #13 in USA Today.
Connect with the Author
Remember to sign up for Nina's Newsletter so you never miss a exclusive news.